[Chinoike Clan]
(14 AP)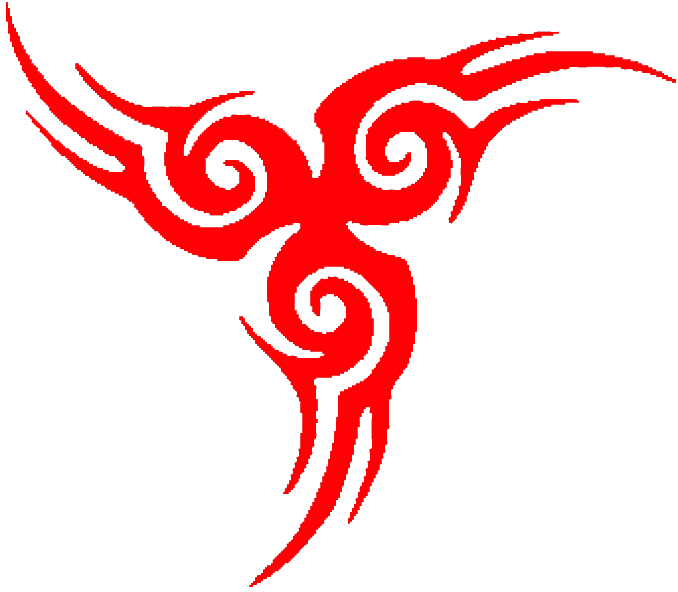 The Chinoike clan (血之池一族, Chinoike Ichizoku) was a clan that lived in the Land of Lightning during the formation of hidden villages after the Warring States Period, known for its dōjutsu, ninjutsu and medics. Shortly after the start of the first great shinobi war, the Chinoike clan was recognized by their eyes that were red as blood, which were rumored to be impossible to look away from after looking into them. During 1299 the clan had been arranged for a Chinoike woman to marry the daimyō of the Land of Lightning, becoming his concubine, causing the daimyō's wife to be jealous. Shortly after the girl became his concubine, the daimyō fell ill and died. The wife lied and blamed the concubine, claiming her clan deceived the daimyō and killed him. Their inner circle knew this to be a lie, but also knew of the Chinoike clan's kekkei genkai, and stood by the wife's words.
The wife hired the Uchiha Clan to drive the Chinoike away, rumored to be living Oni no Kuni to this day though none were seen lately.
[Ketsuryugan]
(Special Passive)
The Ketsuryūgan is a dōjutsu kekkei genkai, which appears in certain individuals of the Chinoike clan. The Ketsuryūgan is recognised by its reddish colour, giving a special appearance for the users of this dōjutsu, characterised as holders of "eyes as red as blood". The Ketsuryūgan confers great ninjutsu abilities. Its power earned it comparison to the Three Great Dōjutsu.
The Ketsuryūgan also gave the users the ability to manipulate the user's blood as well as another persons blood.
Gains Dojutsu - 1x Passive Effect. 2x Custom Dojutsu Abilities
[Ketsuryugan]
4 CP To Activate, 2 CP Per round (Does not benefit from CP Negatives)
11-20) +1 ATK/DEF Rolls, +1d4 Ninjutsu DMG, +1 perception per 4 HP target is missing (Max 20)*, Can tell how much DMG targets have taken
21-30) +2 ATK/DEF Rolls, +1d6 Ninjutsu DMG, +1 perception per 3 HP target is missing (Max 20)*, Can tell how much DMG targets have taken
31-40) +2 ATK/DEF Rolls, +1d8 Ninjutsu DMG, +1 perception per 2 HP target is missing (Max 20)*, Can tell how much DMG targets have taken
(*Can see blood through single surfaces. E.G IF a target is injured, and has an open wound, Chinoike would be able to see them if there was a single wall between their target and themselves.)
[Pure Manipulation]
The Chinoike are able to manipulate blood with out chakra but do so rather painfully. This allows them to save chakra reserves.
PvP: User may use HP to do Blood jutsu instead of CP. Costs +2 HP per Jutsu, and has a 1 round cool down.
[Halting Gaze/Charmers Eyes]
The user sends a pulse of chakra through their eyes similar to a genjutsu and tempts a target to gaze into the Chinoike's eyes. This pulse sends suggestive messages to stop all actions and stare at the Chinoike.
PvP: 3 CP) DEF vs ATK. On Success, Target suffers -1 to DEF rolls for 1 round.
________________
[Precision Sight]
(5 ap)
The Chinoike are very precise, their eyes alone are able to perceive things more clearly and thus naturally have greater precision than most. With this they can predict a targets movements more clearly and strike at the right time. This trait also helps with surgical procedures but as not all Chinoike study medicine it's more of an eye for attacking than it is for saving lives.
Passive) Gains Blood element. 2x E/D/C/B and 1x A/S with gained element.
1-10) +1 to Blood Rolls
11-20) +2 to Blood Rolls
21-30) +3 to Blood
31-40) +4 to Blood Rolls
[Blood Drain]
(3 AP)
The Chinoike are a blood line that masters using their own blood as well as the blood of others as a weapon. They are boon with a very unique blood type allowing them to assimilate other blood types into their own system and if given to another willingly, can be used for blood transfusions that adapt to the persons body. This made Chinoike great medics and blood donors. The Chinoike's blood jutsu are incredibly strong, able to maintain a liquid form and pierce through a persons body easily and capable of draining blood from an enemy to restore their own blood reserves.
1-10) +0 Vamp HP Regen and from Blood Ninjutsu, +1 HP Damage with Blood Ninjutsu
11-20) +1 Vamp HP Regen from Blood Ninjutsu, +1d4 HP Damage with Blood Ninjutsu
21-30) +2 Vamp HP Regen from Blood Ninjutsu, +1d6 HP Damage with Blood Ninjutsu
31-40) +3 Vamp HP Regen from Blood Ninjutsu, +1d8 HP Damage with Blood ninjutsu
[Cell Regeneration]
(4ap)
The Chinoike's mastery over blood goes deeper than just manipulating it, it gives them an innate cellular regeneration allowing them to heal their wounds quickly without applying medical aid to themselves, this also provides them with a constant supply of blood as their bone marrow produces an immense amount. A Chinoike's blood can also become other cells, regenerating organs and even limbs to an extent. They cannot fully re-grow limbs if removed however if they loose an organ they can regenerate them to a functional level.
1-10) +5 HP, 0 HP Regen
11-20) +10 HP, 1 HP Regen
21-30)+15 HP, 2 HP Regen
31-40) +20 HP, 3 HP Regen
[Medical Mastery]
(2ap)
The Chinoike are very effective healers, from blood that can be used in transfusions on anyone to using their own blood to regenerate flesh and bone. The Chinoike are possibly the best medics in the world if one were to dedicate themselves to the art entirely.
Passive) Gain Medical
[Blood to Chakra]
(2ap)
While a Chinoike constantly regenerates their cells their chakra network absorbs the older and dying cells and converts them to chakra. This ensure's a constant supply of both blood and chakra to use their jutsu efficiently. This power is also used in some jutsu, as their blood jutsu can turn their blood into energy beams or even harden it into a crystalline structure, these skills alone show the Chinoike are very versatile in their use of blood, be it for offense, defense or healing.
Passive - If Applicable)
1-10) 0 CP Regen Per round.
11-20) 1 CP Regen per round
21-30) 2 CP Regen per round
31-40) 3 CP Regen per round.
Items: